By 2025 all Erasmus-participants will have safe and secure access to digital campus services and local eGovernance applications at their target destination. For eIDAS only their national ID will be recquired for full access.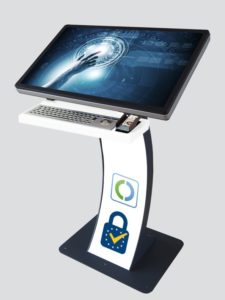 * providing physical access points (pictured)
Background
In January 2018, the EU adopted the Digital Education Action Plan with the goal of "making better use of digital technology for teaching and learning". This plan includes aims to:
enable students to identify in a trusted manner (once-only principle)
digitally connect higher education institutions information systems
facilitate secure exchange and verification of student data /academic records
streamline administrative procedures
enable international students access campus services
The Erasmus+ and CEF-related activities should be integrated.
The project StudIES+
StudIES+ facilitates the mobility of students in the European Union and builds trust for secure e-services among students by deploying and operating apps across the distributed platform StudIES+. The StudIES+ platform will incorporate digital services for Higher Education Institutions (HEIs)-students. Services will be accessible via:
eID (including eIDAS eID) and
derived eIDs (Student eCard) as well as provide
eSignature/eSeal/time stamp services that rely on DSS for eSignature generation and verification.
To provide a modern document and signature solution, a Digital Transaction Management (DTM) platform is connected to the StudIES+ platform. This enablese eSigned document exchange between students, HEI, HEI services organisations on the one hand and businesses on the other hand. Secure exchange of the documents will also be ensured by deploying secure document exchange (ePROSECAL) and notarization platform/services (eNOTAR).